---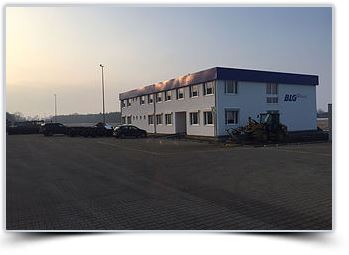 New communal and office building erected
November 04, 2017
Since October 2017, all BLG RailTec employees have been able to share a detached communal and office wing. The new building offers bright common rooms, and the directly adjacent offices enable a team-oriented exchange of information among all staff members.
---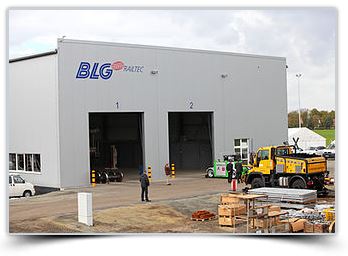 Expansion and addition to the workshop in Uebigau-Wahrenbrück
May 26, 2015
Washing – Blasting – Painting – Assembly
BLG RailTec's extensions to the freight wagon workshop have been completed since the beginning of July 2015. Over a length of more than 40 metres, professional cleaning can be carried out on freight wagons before they are further processed in a 20-metre-long free-blasting section. Connected to this is a combined spraying and drying cabin, also 20 metres long, 6 metres wide and 6 metres high, for painting. A downstream workstation for assembly activities rounds off the new extension. Do you have any questions or need further information? Our workshop manager, Mr Damian Pendzialek, is looking forward to your call
---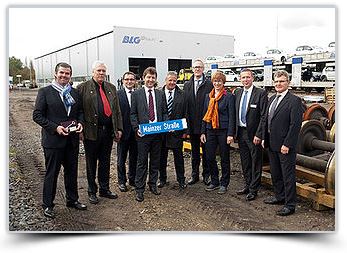 Inauguration of the most modern freight wagon workshop in Europe
October 22, 2014
On 21 October 2014, BLGRailTec commissioned one of the most modern freight wagon workshops in Europe at Uebigau-Wahrenbrück. In doing so, it is also helping to develop the Falkenberg site into an important railway hub in Germany once again
The new wagon service centre is located on an area of 25,000 square metres, where preventive maintenance on freight wagons, shunting services, train formation as well as revision work on freight wagons in accordance with the railway operating regulations are offered. These services are not only offered for BLG AutoRail's own wagons, but also for other wagon keepers. In order to fulfil this task, 50 staff members are already employed at the Falkenberg site.
The inauguration ceremony was also attended by numerous representatives from local and state politics, who had supported the construction of the new workshop. Frank Dreeke, Chairman of the Board of Management of the international BLG LOGISTICS GROUP AG & Co. KG, headquartered in Bremen, said in his welcoming speech, "You have all supported us in one way or another with great commitment, so that we have been able to happily realise our pledge here in Falkenberg."
The Falkenberg marshalling yard was purchased back in 2011. The facility is favourably located in terms of transport strategy on one of the main routes to the North Sea ports of Bremerhaven, Emden and Hamburg, where the logistics company BLG is also active. In June 2011, the parties involved had begun to define the scope and equipment for the new freight wagon workshop. The Brandenburg Ministry of Economics provided 1.1 million euros in funding for the project, which involves an investment volume of around 16 million euros. "I congratulate BLG on this great project," said Kathrin Schneider, State Secretary of the Brandenburg Ministry of Infrastructure and Agriculture. "Brandenburg is a transit state and we really appreciate it when both value is created along transit routes and new jobs are provided, as BLG has done in Falkenberg."
Gerhard Ringmann, head of department responsible for economic development at the Ministry of Economic and European Affairs, added, "Logistics is a growth industry – also at a European level. The German capital region – located between the growth markets of Central and Eastern Europe and the economic centres of Western Europe – offers logistics companies an optimal starting point for future European activities. The proximity to Poland and the Czech Republic, the excellent transport connections and the well-developed infrastructure form the basis for the dynamic structural development that this region has undergone in recent years. The decision of the internationally active BLG group of companies to invest in a freight station in the Elbe-Elster district that had been lying fallow for years is an important contribution to strengthening Berlin-Brandenburg as a logistics location."
Our Managing Partner of BLG AutoRail GmbH, Gerald Binz, was also pleased about the successful completion of the project after some ups and downs and emphasised in his speech, "We are convinced that only through technical innovation and the creation of advantages relevant to the system can we promote the ecological transport mode of rail."
Developments in the market have led to considering an own company workshop capacity, especially as major overhauls are stipulated for the wagons every six years. "Here, there was an increasing danger of having to fear capacity bottlenecks due to workshop closures, which would then be detrimental for the wagon availability. In Eberswalde and Zwickau, DB will soon be closing two more workshops with a total of 574 employees," says Gerald Binz. The freight wagon workshop in Uebigau will soon be expanded once again due to the positive response and demand. In addition to two more work stands, a modern painting line and the extension of the track facilities by an additional five kilometres to 25 kilometres are planned.
We have been operating our own trains since 2008 and already have the most modern fleet of wagons in Europe. All 1,275 wagons are equipped with whisper brakes, which keep the noise produced by the trains when braking well below the maximum permissible limit of 82 decibels. We transported around 550,000 automobiles by rail in an environmentally friendly way in 2013. Our new Laaers 810 pioneering design equipped for the future was introduced just recently.
You can also visit the BLG RailTec GmbH homepage to find out more about the company and its activities.
---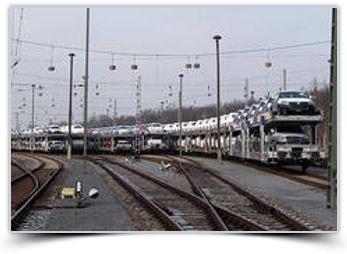 BLG AutoRail and BLG RailTec with ECM certificate
August 21, 2013
In August 2013, BLG AutoRail GmbH, based in Mainz, successfully obtained the ECM certificate in accordance with Regulation (EU) 445/2011. The subsidiary BLGRailTecGmbH, operating in Falkenberg, had already received the ECM certificate in the maintenance provision module in May 2013. This means that BLG AutoRail and BLG RailTec now have all ECM modules, maintenance development, fleet maintenance management and maintenance provision. "We are thus in a position to offer other wagon keepers an integrated, efficient and cost-optimised fleet management system," says the managing partner of BLG AutoRail GmbH, Mr Gerald Binz.
The audit association praised particularly the high level of maintenance development. Binz explains, "We are proud that we have been able to increase the availability of our wagons through preventive maintenance and design changes. This effect primarily benefits customers in the automotive industry, who ensure high delivery quality with reliable automobile transporters."
BLG AutoRail GmbH currently has 1,200 special wagons for automobile transport by rail. By mid-2014, the stock will increase to 1,275 wagons. In parallel, BLG AutoRail is having two prototypes suitable for service in Italy developed that are capable of transporting 12 SUVs per wagon to Italy, France and Spain. A technical innovation that BLG AutoRail has secured under patent law. The prototypes are being built by the wagon manufacturer Greenbrier in Swidnica (Poland) and will undergo a practical test at an automotive manufacturer in September 2013.
The subsidiary, BLGRailTecGmbH operates a marshalling yard and a wagon maintenance facility in Falkenberg. By the middle of next year, a modern wagon workshop will be built at the Falkenberg site, which will offer services for other wagon owners in addition to looking after its own wagons.
---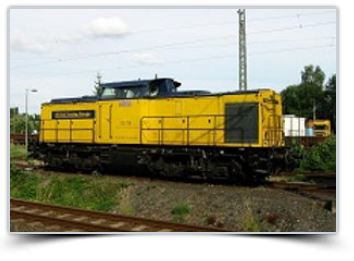 BLG AutoRail subsidiary buys two BR 203XL locomotives
December 31, 2011
BLGRailTec has purchased two BR 203XL shunting locomotives from SC Rail Leasing Europe B.V. The locomotives were refurbished by ALSTOM in Stendal in 2008 and received a more powerful engine with a 1,305kW Cat engine as part of this measure. The locomotives replace the BR 214 001 leased from NBE and should be used for the shunting operation at Falkenberg upper station. One locomotive serves as a possible replacement in order to have a fail-safe system and to guarantee delivery reliability to BLG AutoRail customers.
---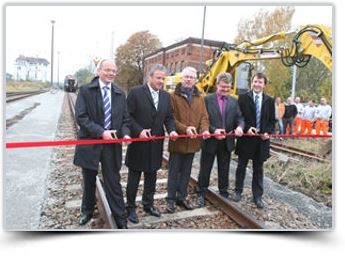 Re-opening of marshalling yard and commissioning of technical centre in Falkenberg/Elster
October 24, 2011
BLG AutoRail's subsidiary, BLGRailTec, reopened the Falkenberg/Elster marshalling yard at a grand inauguration on 28 October 2011.The marshalling yard and the technical centre are being put back into operation.
​
Photo from left to right: Michael Wuth (DB Netz), Gerald Binz (BLG AutoRail), Manfred Kuhr (BLG Logistics), Herold Quick (Bürgermeister Falkenberg/Elster), Andreas Claus (Bürgermeister Uebigau-Wahrenbrück)
---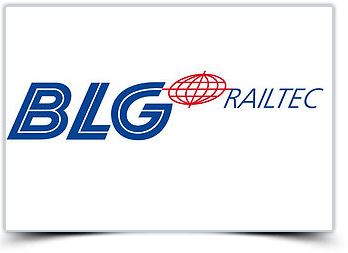 Foundation of the "BLG RailTec GmbH" subsidiary
July 09, 2011
The 100% subsidiary BLGRailTecGmbH, based in Falkenberg, is founded.
​